Responsibility
Responsibility
Faye's Diamond Mine - Your Responsible Hometown Jeweler

Social responsibility is very important to Faye's Diamond Mine. We strive to do what is right for the jewelry industry as well as our environment, our families, and our world. We put forth an effort to incorporate social consciousness into our business plan. We believe that a "million mile journey begins with a single step" and we hope you agree.
Faye's: GREEN

Recycle (cans, bottles, paper, cardboard, ink cartridges, bulbs and batteries)
Reuse (cloth rather than paper towels, reuse boxes for shipping and storage, etc.)
Energy-efficient light bulbs
Energy-efficient AC/heat unit
Filter exhaust at the polishing machine
Remake jewelry with refined precious metals
Refine 'used' metals
Faye's: COMMUNITY-MINDED

Donate to fund-raising events such as Ozark Health Foundation
Give to community projects
Support numerous local charities
Serve on local boards for community and charitable organizations
Promote and carry many products made in the USA, Arkansas, and locally in Clinton
Faye's: SUPPLIERS THAT CARE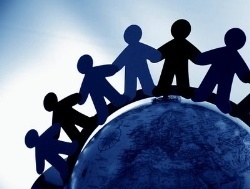 Use packaging and displays made from recycled materials
Socially responsible (participate in the Kimberly Process, the Fair Trade Act and Supplier of Choice, among others
Compliant with the federal anti-money laundering laws
Give to many charitable organizations (Examples include Sarah's Hope, Ostbye, Parle/Idaho Opal)
Refiners that use 'green' ways to refine precious metals
By shopping at Faye's, you help us donate a percentage of our sales to support education, the arts, community services and charitable organizations, local as well as abroad.