Antwerp Diamonds
Diamonds From Antwerp, Belgium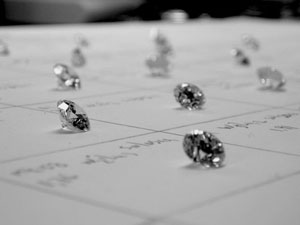 Every year, Faye's Diamond Mine travels nearly 10,000 miles to hand select diamonds in Antwerp for our customers back in Clinton.
With our connections overseas, we are able to cut out the middleman, and save money in the process. With this elite service, we extend these savings to our customers, and are able to get the best selection of diamonds in the world. Antwerp, Belgium is where 60-80% of the world's diamonds are cut and traded, and is known as the "Diamond Capital of the World." We proudly comply to the Kimberley Process, which prevents conflict diamonds from entering the diamond trade, and by doing so, we are able to import conflict-free diamonds into the United States.
Diamonds are individually unique, just like the people who wear them. It's our pleasure to help match someone with the diamond that has the particular qualities that suit them perfectly. As a lifetime investment, heirloom, or breathtaking gesture of love, the best way for us to guarantee your ultimate satisfation is by personally hand-selecting your diamond from the best source. For more details, please call us at 501-745-8434 or send an e-mail to faye@fayesdiamondmine.com.
Read more about the 4C's and choosing the ideal diamond...